CB Taristar. dob 11/20/02.
Starliner x RHF Almond Joy.
CB Taristar was the first animal in the breed to have both Starlight and Tari Graves on her pedigree and the first to recieve the TS brand with a holding brand of number l. CB Taristar is an exceptional beauty and she will continue to be used in my A.I. and embryo program. Measures 74 inches on 9/25/10. If you wonder where the 80 inch cows of the future will come from, your looking at one. Heifer calf at side by ZD Jamadan.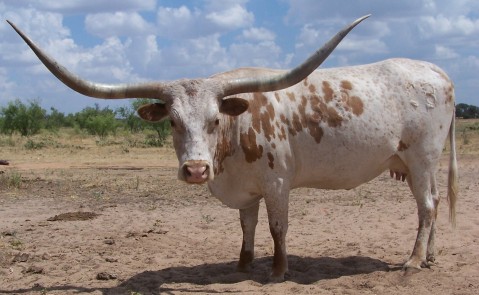 CB Rolling Queen. dob 11/12/02.
Salida Slick x YOSlater SS105.
CB Rolling Queen is out of the great cow YO Slater. She is half sister to Coopers Charmer, but has more horn at half the age. CB Rolling Queen is the cow to watch from this bloodline along with her CB Tari's Soldier heifers. Safe in calf to CB Tari's Kevlar.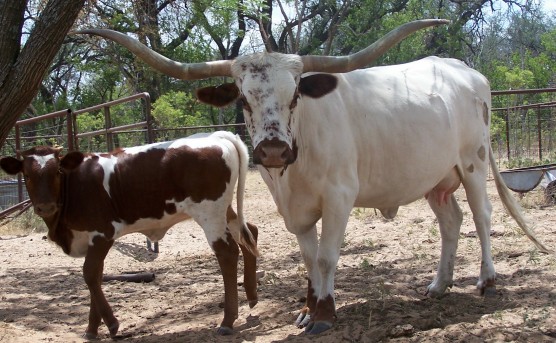 CB Taris Lexus. dob 5/26/05.
Rock Star x RHF Almond Joy. Full sister to CB Tari's Soldier and from the same flush. This cow looks alot like Tari Graves only younger. She has all the qualities to be a great foundation cow for years to come. Has tipped about 3 inches off one horn but will still have alot of horn as she moves into her 70's.

CB Tari's Ginger Star. dob 5/26/07.
CB Tari's Soldier x CB Princess Ginger.
CB Tari's Ginger Star has three of the longest horn cows in the breed on her pedigree. JMC P's Ginger Snap, Starlight, andTari Graves. Although she looks more like Ginger Snap than any of the others with the combination of Tari Graves, Starlight, Emperor and Phenomenon her pedigree is a one of a kind in the industry. Bred for horn. CB Tari's Ginger Star. Check her out!